No water, no life: Two  books by our Vice President  Dr Gillian Craig.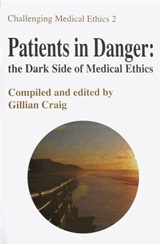 Challenging Medical Ethics 1 "No water - No Life, Hydration in the Dying"
Challenging Medical Ethics 2 "Patients in Danger; the dark Side of Medical Ethics"
ISBN-10; 09552840 07, ISBN-13; 978 0 95528400 07
"Food and water are essential for life, so those who withhold food or water are, in effect depriving a person of life. Yet some years ago , judges in their wisdom, decided that food and water, given by means of a tube, is medical treatment that can be withheld if the patient is permanently unconscious. Now patients with lesser degrees of brain damage are at risk of having tube feeding withdrawn with the result that they will die. Many people feel that this is morally wrong. Yet when politicians and economists want to limit the cost of health care matters of morality may carry little weight. Consequently battle lines have been drawn between those who consider all human life to be sacred and those who do not. This book explores the complex moral and legal dilemmas that may arise when life - prolonging measures such as tube feeding are withheld or withdrawn."
Orders and enquiries to P O Box 341, Enterprise House, Northampton, NN3 2WZ